Welcome to the second week of #SharingtheBlogLove! I run this linky with Laura from Dear Bear and Beany, and we were over the moon with how many of you lovely bloggers linked up to us last week – a total of 36 links were added which is amazing!
It was great to hear how well our idea had been received, and how keen you guys all were to spread a bit of the blogging love around. We loved reading all your posts – I've discovered so many new blogs through starting this linky and it's a real pleasure to read them all. Both Laura and I have chosen our 4 favourites for our showcase posts and we'd love you to head over there and show them all some love – we think they're all great reads!
We really hope that you all get a lot of blog love in traffic and comments from this linky. It was lovely to see how many of you were commenting last week – it would be fantastic if you could keep this up this week and really spread the linky love, as so often the more comments you leave for others, the more you'll end up getting in return.
To give your wonderful featured posts even more exposure, both Laura and I will be linking our showcase posts up to #TheList with Aby at You Baby Me Mummy and Amy at Mr and Mrs T Plus Three on Fridays. A huge thank you to both of these lovely ladies for allowing us to do this!
The Rules
As always we have a few rules that we'd like to put in place to ensure that everyone receives plenty of comments:
Please link up one post, new or old, and add our badge to your post with the code below
Please visit both the host posts and choose a featured post from each to comment on to give them some extra love
Please comment on the post before yours
Please use our hashtag #SharingtheBlogLove when you comment so that we all know where you've come from
Tweet us your links at @hotpinkwellies and @dearbearandbean with the hashtag #SharingtheBlogLove and we will aim to retweet you all
To be chosen as a featured post, you must use the badge and have commented on the minimum posts required
If you'd like to comment on more posts we would love that – we all know comments are what make the Linky world work after all! If you read something you like, why not give it a tweet and let everyone know?
We've designed a lovely badge which we'd love you to include on your posts – we like to think it's a nice blend of our two blogs!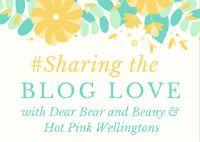 Thank you so much for joining us for #SharingtheBlogLove – we really hope that this linky brings your posts lots of love and we really hope you'll join us again next week!