Phew, what a week it's been! Just when we all thought summer was over we get another heat wave to enjoy! I think we've had a run of so many rubbish summers lately that I can't get enough of the nice weather. We had a lovely picnic this week with my Mum and Dad and despite the fact that Max pretty much only ate cake and ice cream, we all had the best day (in fact, that may be the reason that Max had such a lovely day!)
But on with the linky! I run #SharingtheBlogLove with Laura from Dear Bear and Beany, and it was another great week for our little community last week with 32 linkers. Thanks to everyone who joins us each week and is so generous with your commenting. And a big welcome to any new linkers! If this is your first week joining us, please read on and find out what we're all about…
What's #SharingtheBlogLove all about?
If you are new to Sharing the Blog Love it is a weekly showcase of our favourite posts that have linked up. It's a chance to introduce you to new blogs and to share the wonderful writing that exists in the blogging world.
All you have to do is link up your post, then Laura and I will both read all the posts linked up and leave a comment.  We will then each showcase our 4 favourites the following week, as well as tweeting them throughout the week. That means 8 brilliant posts will be showcased each week. If you're chosen as one of our featured posts, we'll include a link to your blog post and a summary of your post and why we loved it. Hopefully you'll also then receive lots of lovely comments from our linkers!
To give your wonderful featured posts even more exposure, both Laura and I will be linking our showcase posts up to #TheList with Aby at You Baby Me Mummy and Amy at Mr and Mrs T Plus Three on Fridays. A huge thank you to both of these lovely ladies for allowing us to do this!
The Rules
As always we have a few rules that we'd like to put in place to ensure that everyone receives plenty of comments:
Please link up one post, new or old, and add our badge to your post with the code below
Please visit both the host posts and choose a featured post from each to comment on to give them some extra love – please note, we'd like you to comment on one of the featured posts, not just on our showcase post (although you're more than welcome to leave us a comment as well!)
Please comment on the post before yours
Please use our hashtag #SharingtheBlogLove when you comment so that we all know where you've come from
Tweet us your links at @hotpinkwellies and @dearbearandbean with the hashtag #SharingtheBlogLove and we will aim to retweet you all
To be chosen as a featured post, you must use the badge and have commented on the minimum posts required
If you'd like to comment on more posts we would love that – we all know comments are what make the Linky world work after all! If you read something you like, why not give it a tweet and let everyone know?
We've designed a lovely badge which we'd love you to include on your posts – we like to think it's a nice blend of our two blogs!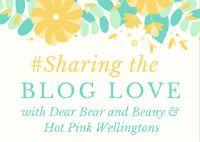 Thank you so much for joining us for #SharingtheBlogLove – we really hope that this linky brings your posts lots of love and we really hope you'll join us again next week!